We begin with a quick solution for an empty container handler experiencing steering difficulties.
Problem Description
What should I do if the DCT 80 empty container handler has hard steering problems? This guide will lead you through the way to fix the problems step by step.
First we look at the pictures taken while our technicians performed on-site investigations:

(Left) The red mark indicates the position of the shuttle valve.
(Right) After Disas­sembling the shuttle valve, we found that the shuttle valve was broken.
Repair Process
When a hard steering problem occurs, we should check all the pressure reading on the main control valve test point. Kalmar technicians found the steering pressure to be just around 50 bar, however there were no signs of improvement after adjusting the steering pressure.
In that case, next we consider problems with priority and shuttle valves. First we should check the steering priority valves. If there are no abnormal situations, then remove the shuttle valve for steering and accumulator charging function from the vehicle. As the pictures shows, the fore part of the valve has fractured, leading to steering difficulties.
According to the hydraulic diagram, the floating ball inside the fractured valve has been dislocated, blocking the passages inside the multi-way valve, preventing the empty container handler from reaching its normal steering pressure – 170 bar. The problem is solved after replacing the fractured valve.
The hydraulic diagram of the DCT 80 empty container handler steering components: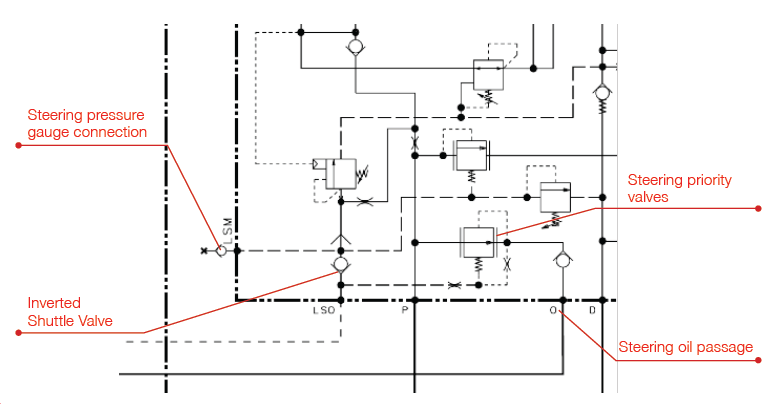 Conclusion
When encountering the above situations while performing on-site repair, we should check all the functioning hydraulic pressure reading and analyse whether the pressure reading is normal or not. Finally, we should identify the basic cause of the problem and find out the defunct parts.
The case studies in rapid maintenance are collected and compiled by the Kalmar Asian Training Centre (KATC).
Committed to promote growth of the container handling and port industry in Asia, KATC provides a professional platform where partners and customers can eliminate bad practices and continue to learn in a limitless global learning environment.